Believe it or not, there are plenty of great, inexpensive smartphones you should consider, so we rounded up the best Android phones under £200. Buying an affordable smartphone no longer means losing out on all of the latest features and performance. We review and rank the best budget phones available right now
The best budget phones are also more attractive in the long-term thanks to cheaper contract prices, though you might prefer to buy these smartphones outright and then pay only for your minutes, texts and data, if you can swing it.
Android Phones Under £200
1. Realme 9i
Realme remains one of the fastest-growing brands in the smartphone space, focusing mainly on the budget segment. The Realme 9i is the company's take on a sub-£200 smartphone and packs a fair few features for the price.
It's powered by Qualcomm's 4G-ready Snapdragon 680 processor, which means you'll miss out on top-end speeds. On the bright side, you can choose from 4GB or 6GB of RAM with up to 128GB of expandable storage onboard. Realme's 6.6-inch display offers a 90Hz refresh rate and a Full HD Plus resolution, so it should work well to catch up on your favorite shows.
Realme brought 33W charging back to its 9i, promising a full battery in just 70 minutes. Add in a 50MP main camera and 16MP selfie camera, and there's not much to complain about. Overall, the Realme 9i is a solid option for those in the market for a sub-£200 with great battery life and dependable performance.
2. Moto G Play (2021)
Moto is the king of the sub-$200 category, and the updated Moto G Play (2021) is its most recent affordable phone under the Play banner. Of course, it makes a few spec compromises to reach this price tag, but it's still a perfectly enjoyable piece of tech.
The display is a 6.5-inch, 720p HD+ LCD, but it does the job. You also benefit from respectable bezels and a small waterdrop notch, making this a pretty good phone for watching videos or playing light games. You'll find more noticeable downgrades with the 13MP + 2MP dual rear cameras, but they're serviceable for quick uploads to your favorite social media app.
The Moto G Play (2021) has a fingerprint sensor on the rear in the Moto logo, which is every bit as fast and reliable as you could ask for. There's also a headphone jack and support for expandable storage, along with an awesome 5,000mAh battery and support for all U.S. carriers. Unlike cheaper phones like the Moto E (2020), this device thankfully has USB-C charging (but no wireless charging).
Perhaps the biggest downside to the Moto G Play (2021) is that Motorola has all but confirmed that it would only see one major platform update — and that is to Android 11! That's right, this thing ships with an out-of-date version of Android (10). While Motorola's custom take on Android is just as strong here as it is on the Moto G Fast, offering at least one update would've been greatly appreciated.
3. Samsung Galaxy A22
The Galaxy A22 is one of Samsung's better budget smartphones and offers plenty for its price tag. The large 6.6-inch display offers a small Infinity-V notch at the top with slim side bezels. Samsung's huge 5,000mAh battery, combined with the Full HD Plus display, makes the Galaxy A22 a great option for streaming on the go.
You'll get a trio of rear camera lenses, capped off by a 48MP main shooter. There's an ultrawide option for some extra flexibility, but it only offers 5MP. Powering the Galaxy A22, you'll find the 5G-ready MediaTek Dimensity 700 processor. It should have no problem keeping up with most of your daily tasks. All these things combined make the Galaxy A22 one of the best phones under £200 you can get.
4. Moto G Stylus (2021)
The Moto G Stylus (2021) hits the very top of our $200 budget. While not without fault, all things considered, it's one of the best phones you can buy when looking at Android devices this cheap. The one big caveat is that it runs Android 10 out of the box and you can only update it up to Android 11. However, the 2021 iteration of the G Stylus is almost perfect in all other regards.
The Moto G Stylus (2021)'s hardware is built far better than you'd expect for a phone in this price tier. Of course, it is now available at half the launch price, which explains the high-quality construction. It feels substantial when held and there's a mighty useful stylus built-in. The 6.8-inch LCD is also good, giving you a large canvas with minimal bezels, great colors, and good viewing angles. The FHD resolution means that things are quite as sharp considering other options in this list. Overall, it's a fine screen.
You get four cameras on the back, including a 48MP primary camera, an 8MP ultra-wide camera, and 2MP macro and depth sensors. That 48MP sensor takes surprisingly detailed and vibrant shots, and while the quality dips with the other sensors, it's still a lot of fun to have them for expanded shooting possibilities. Battery life is another strong point, with the 4,000mAh battery allowing for up to two days of use for some folks. However, there's no fast charging support here.
5. Nokia G21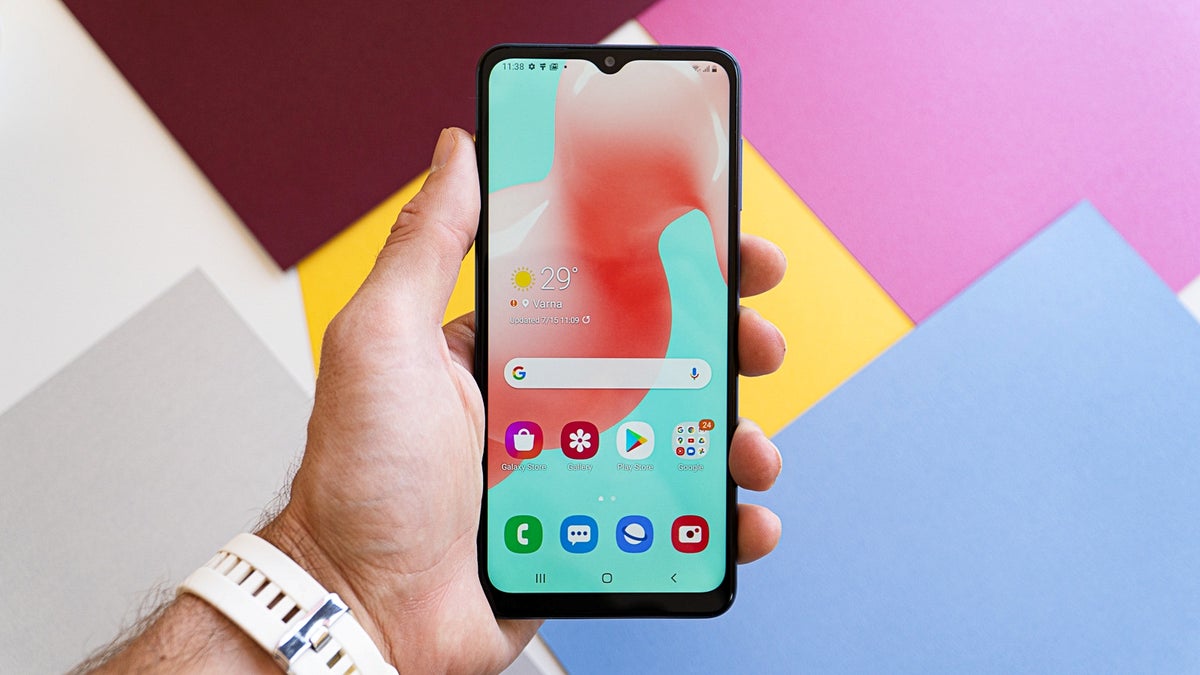 The Nokia G21 sits as one of the newest devices on this list, having made its debut in February 2022. It offers quite a lot for the price, considering it comes in at just £149. For your money, Nokia will hook you up with a solid 6.5-inch display, complete with a 90Hz refresh rate and HD Plus resolution.
Behind that display, you'll get a budget-friendly Unisoc T606 processor with either 3GB or 4GB of RAM and up to 128GB of storage. The 50MP main camera is likely the only one worth writing home about, and we've seen impressive color recreation on previous affordable Nokia devices.
Nokia is also happy to boast about the three-day battery life you can achieve with the 5,050mAh cell. The lack of 5G probably means you can push it a bit further, and 18W wired charging is faster than we've seen on many affordable Nokia devices.
6. OnePlus Nord N100
Even though OnePlus made a name for itself by offering flagship-quality phones at more affordable price points, it wasn't until the Nord introduction series that it really started to produce true budget-level phones. Unfortunately, the original Nord and Nord 2 did not release in North America, though those in the U.S. and Canada can get their hands on the true value phones in the Nord lineup, including the Nord N10 5G and N100.
Coming in at under $200, the OnePlus Nord N100 is a pretty impressive package. It features a 6.52-inch LCD screen, a 5,000mAh battery, and 64GB of on-device storage with the ability to expand up to 512GB via the microSD slot. In addition, there is a triple camera setup on the back along with a fingerprint sensor, and it features dual stereo speakers up front.
Just about the only real downside to the N100 is that it ships with Android 10 and OnePlus's OxygenOS 10.5. You can update to OxygenOS 11 based on Android 11 right away but that's the sum total of its platform updates. However, if you've always wanted a OnePlus phone but couldn't afford it, this is a great option. Alternatively, if you can swing a little more, you can pick up the newer OnePlus Nord N200 5G for around $240.
7. Poco M3 Pro 5G
Poco's mid-range update to the M3 device packs in plenty of power and versatility for its price tag. It's amped up with the MediaTek Dimensity 700 chip and a sharp Full HD+ display.
There's a relatively spritely 90Hz refresh rate and up to 128GB of storage with microSD expansion. You can try either 4 or 6GB of RAM for size, and you even get a headphone jack for your money. Also included is a trio of cameras topped off by a 48MP shooter with a macro lens to add to the fun.
On the software side, you're getting Poco's MIUI 12 based on Android 11, which is as up-to-date as you can be on such an affordable device. MIUI has seen many tweaks over the past couple of years to streamline the user experience.
8. Moto G Power (2021)
The Moto G Power (2020) was one of our favorite budget phones of 2020, so we were excited when Motorola announced that the device was getting a sequel. However, that excitement dampened once we learned about some of the upgrades (or downgrades) featured in its 2021 model. With the Moto G Power (2022) now available, we can safely say that you're better off with last year's model despite the downgrades.
The Snapdragon 662 processor is much better than 2022's slow Mediatek processor. There's no HD+ display on the 2021 variant, but the 2022 model is the same and also maxes out at 720p so you're not losing out. While Motorola kept the headphone jack in the Moto G Power (2021), it again left NFC, wireless charging, and official IP water resistance off the spec sheet, though you do get a water-repellent coating. Sadly, the 2021 model ships with Android 10 and received only one major platform update (Android 11).
Don't get us wrong — the Moto G Power (2021) is still a solid, capable, and affordable Android smartphone. It's just not the second act we were hoping for. Nonetheless, if you're looking for a three-camera setup, a bright and big screen, and a giant battery, it's hard to beat this offering. In any case, it's much better than the newer 2022 variant that comes chock-full of lags.
9. Motorola Moto E40
The Motorola E40 might be a familiar phone for UK and US users alike. In the states, it's nearly identical to the latest Moto G Power, with a matching display and almost the same selection of cameras. More importantly, it remains a solid budget option on both sides of the pond, coming in well under £200.
For starters, the 6.5-inch display now offers a 90Hz refresh rate with Motorola's standard HD Plus resolution. You get a Unisoc T700 processor to keep things moving, and 4GB of RAM is the base option, along with 64GB of storage. The Moto E40's 48MP main camera loses 2MP compared to its US-based cousin, but the 2MP macro and depth lenses remain the same.
Finally, Motorola packed a sizeable 5,000mAh battery under the hood. It may not charge all that quickly — somewhere around 10W, but the lack of 5G means it'll be tough to drain, too.
10. Blackview BV4900
Putting a case on the phone is an excellent way to ensure it stays safe throughout your daily use, but some phones were designed to be rugged and durable right out of the box. One such phone is the Blackview BV4900, and if you're prone to clumsiness or work in a physically demanding environment, the BV4900 is a solid choice.
The design of the BV4900 makes its ruggedness unmistakable, and it has durability ratings to back it up. Not only is there an IP68 dust/water resistance rating, but you also get a MIL-STD-810G certification. This means the BV4900 was tested to survive drops of up to five feet.
Moving beyond its design, there are plenty of other highlights for the BV5900. It has a massive 5,580mAh battery, USB-C charging, NFC for contactless Google Pay payments. There's also 3GB of RAM and 32GB of storage that can expand to 128GB. You miss out on any platform upgrades past the pre-installed Android 10 and there's no fingerprint sensor.